Take Part in an Educators-only Online Demonstration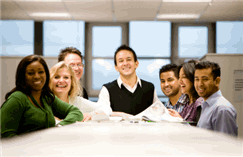 ---
A convenient opportunity for you to find out first hand the multitude of ways our resources can help you produce better learning outcomes in the classroom




Because we are eager

to demonstrate to teachers, tutors, and administrators the many ways our research-based resources can improve learning outcomes, we urge you to take part in one of our regularly scheduled online demonstrations for educators and trainers.

How the process works

Our educators-only online demonstrations work as follows:
Location. You can take part from any location where you can connect to the Internet.
Time commitment. Sessions generally run 30 minutes.
Cost or obligation. There's no cost to you or your organization.
Setting up an appointment
If you're interested in taking part in a phone demonstration, or would like us to provide you with Group Administrator privileges as part of your test drive,
Contact Us
, or click
here
to send an email. Please include in the email your telephone number and the best time to reach you.
---
---