Mastering the Basics of English Grammar
A new and engaging way to help students acquire the basic skills that underlie effective writing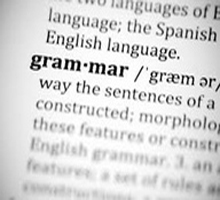 ---
Our award-winning combination of "drill-down" assessments and individually targeted, "walk-me-thru-it" mini-lessons covers the full spectrum of English grammar—everything from the parts of speech to the fundamentals of sentence construction.




The ComFit Online Learning Center has made a huge difference in the ability of my students to write papers that are not riddled with grammar and usage errors.
---
Mary Latham, Odyssey Charter School, Las Vegas, NV
The ComFit Online Learning Center approach to helping students master the basics of English grammar is built around the following components:
A "drill-down" assessment process that pinpoints the specific skill gaps that differentiate individual students
An automatically generated improvement path that self-adjusts to the needs of each student
A "fitness-center" learning model that keeps students actively engaged in the improvement process
Instructor-friendly reporting and performance monitoring tools
The ease and convenience of 24/7 Internet access
---
If you would like to talk to someone at ComFit Learning about the assessment and skill-building needs that are priorities for you or your organization, Contact Us, or send us an email at info@comfit.com.