Helping Struggling Readers Help Themselves
A scaffolded approach to improving reading comprehension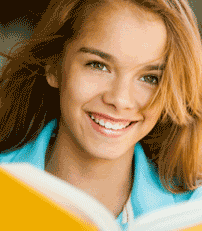 ---
Our constantly expanding library of reading-related instructional content focuses—in carefully measured ways—on the "thinking" aspect of reading.









"The ComFit Online Learning Center has played a big part in the intervention programs we've developed to help our students become stronger and more thoughtful readers. And it is one of the main reasons that our test scores in reading proficiency have shown consistent year-after-year improvement."
---
Philip Quinci, Asst. Principal, PS 384, Brooklyn, NY.
The reading-related content
in the ComFit Online Learning Center is geared to students (of all ages!) who've learned how to decode words but still struggle with higher-level skills—in particular, the ability to identify main ideas, to differentiate inferences from observations, and to use context to define unfamiliar words.
We help students acquire these skills in two key ways: (1) by organizing reading passages according to
skill
level, as opposed to
grade
level; and (2) by providing multiple and engaging opportunities for targeted practice.
---
If you would like to talk to someone at ComFit Learning about the assessment and skill-building needs that are priorities for you or your organization, Contact Us, or send us an email at info@comfit.com.