The Smarter Way to
Smarten-up Students for High-stakes Tests
Proven skill-building resources for high-level test performance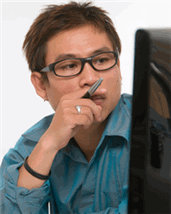 ---
The wide range of test preparation resources on the ComFit Online Learning Center can boost test performance in virtually any standardized test but is especially well suited for ACCUPLACER, COMPASS, ACT, The SAT, GED, and state-by-state tests







"Of all the computer-based programs we've used over the past five years in our test preparation programs, the ComFit Online Learning Center is the only program that has produced measurably succcessful results."
---
Bathsheba Cantrell, University of Central Oklahoma.
Our individualized and highly targeted
test-prep content offers far more than the usual mix of test-taking "tips" and "sample questions" found in conventional online test prep resources. Our "drill-down" assessment process pinpoints the knowledge gaps that can sabotage test performance. Our "walk-me-thru-it" skill-building content fills those gaps in an engaging, interactive manner.
---
If you would like to talk to someone at ComFit Learning about the assessment and skill-building needs that are priorities for you or your organization, Contact Us, or send us an email at info@comfit.com.